Wipe Deleted File Permanently
Do you know that when you delete a file from your hard drive, it still remains in some part your drive?   Many file recovery software are available nowadays in market to recover accidentally or intentionally deleted data from your hard drives and any other storage devices. However, the main question arises when you were going to sell or dispose your laptop or PC.  Complete deletion of the files and folders will not help you in case of security if your system goes in the hand of hackers. Some people may suggest you to format your hard drive. Though it is a good procedure, but it does not mean that the files that are formatted from the hard drive will be removed from it beyond the recovery. Because your files though deleted from your hard disk still remains in some part of hard drive. If your computer contains some confidential files or any other important files they may misuse that information by recovering deleted or lost files from your system by using any File Recovery Utilities.
You might be thinking it to be a big problem in selling or disposing your computer. But with the help of disk wiping tool you can wipe deleted file permanently from your PC. It has nine shredding patterns with the help of which it overwrites the entire hard disk with garbage value. When anyone want to recover those files he will get nothing but some junk values. This tool overwrites any data several times on hard drives and other storage devices. The nine shredding patterns are listed below:
Fast Zero Overwrite
Random Overwrite
US Navy, NAVSO P-5239-26_RLL
US Department of Defense (DoD 5220.22-M)_DOD Standard 5220.28 STD
North Atlantic Treaty Organization_NATO standard
Peter Gutmann Secure Deletion
German:VSITR-US Department of Defense (DoD 5220.22-M)
Gutmann Method
The nine shredding patterns are standardized based on their security level like low, medium and high. This utility can also permanently erase SanDisk SD Card Files and also other model of SD cards like Transcend, Lexar, Kingston, etc. This tool is used in different versions of Windows OS such as Windows XP, Vista and 7. To wipe deleted files permanently you can select appropriate standard pattern. By using this tool you can safely wipe the deleted file in simple steps. This tool is also used to wipe external hard disk, flash memory cards, iPod, USB drives, etc permanently. The tool supports different brands like SanDisk, Toshiba, Dell, HP, Samsung and so on. Hence, you can completely wipe Toshiba laptop and erase the confidential files permanently before selling or donating the laptop to others.
Steps to carry out the process for wiping deleted files permanently:
Step 1: Download and install Drive Wipe tool on your system, welcome window will pop-up in your computer. Select the hard drive to wipe the deleted files permanently.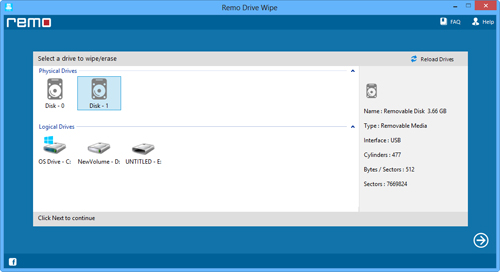 Figure 1: Select the logical drive
Step 2: After that choose any of the nine standard patterns to start the process. It will start wiping and all files will be overwritten by random values like 0's and 1's.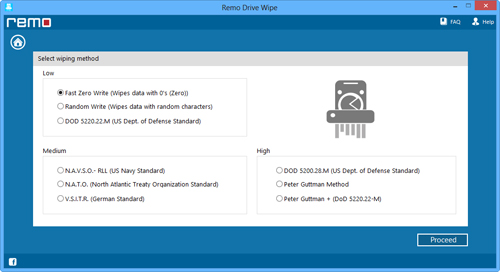 Figure 2: Select Wiping Method
Step 3: After successful wiping of hard disk, you will see a message stating successful completion of the wiping process.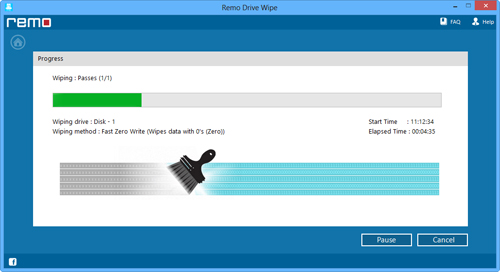 Figure 3: Wiping Hard Drive