External hard drive is a storage device which is used to store important files, folders, or media files like audio, video, pictures, etc. as a back up or when you run out of disk space in your computer's hard drive. When your disk space is less, you may get warning messages and often being forced to delete your files, but if you use external hard disk then you don't have to worry about those warning messages.
Suppose you visited electronic gadgets shop. Your eyes got stuck in new highly advanced, best featured external hard disk with high capacity of about 4TB. You wanted to buy it; all important files or whatever documents you have you can easily store them in that external HDD. As you have decided to buy new External HDD, there is no use of your old one. So you wanted to sell it. Thats why you formatted old one completely. Do you know that just formatting your External HDD will help you in case of security? Some criminal mentality people may buy it and recover your personal information by using file recovery software to misuse it for e.g. possibly he can steal your identity.
The main reason to wipe external hard disk is mainly when you want to dispose it that contains sensitive things and don't want anyone else seeing them.
Do not worry!!! In such situation you can use wipe disk software to securely wipe external hard drive. When you delete your files or format your drive, data still remain on some parts of your hard drive, but you can't see them. By using this software you can remove all traces of your data, including those files that are in a hidden format. You can prevent your important and confidential information from being used wrongly by others.
External Hard Drive wiping tool is a new technique that is becoming popular these days. It is a new secured method that securely wipes external hard disk. Wiping disk is better method in comparison to file erasing or formatting the external hard drive, because this technique will overwrites your entire external HDD with garbage value several times so it is almost impossible to get back those files which were present on the drive before overwriting. This tool has nine shredding patterns one better than the other, with the help of which it overwrites the important and confidential data with junk values. This utility is also used to wipe hard drives on Windows 7 and is also compatible with all versions of Windows Operating System.
Steps to securely wipe External Hard drive by using the software:
Step 1: Download the software External Hard Drive wiping tool and install it on your system and launch it.  After this, main window will appear on your screen, where you need to select external hard disk and then click "Next" option as shown in Figure 1.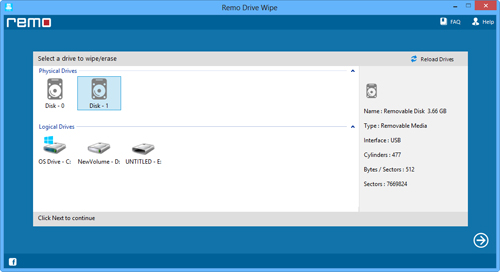 Figure 1: Main Screen
Step 2: Then you will find nine shredding options out of which you have to select one which matches your scenario and then proceed for the next step.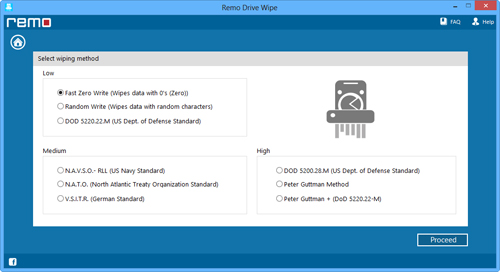 Figure 2: Select Wiping Method
Step 3: After wiping external disk successfully, a message stating completion of the wiping process will display on the screen.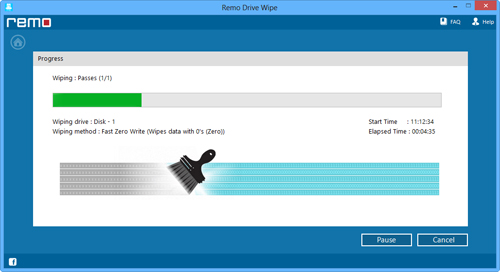 Figure 3: Wiping External Hard Drive