Best Method to Wipe Disk on Memory Cards
Memory cards are removable, portable storage devices commonly used in mobile phones, digital cameras, PDA's etc. As with any technology, you may come across a situation where you need to redeploy the memory card to new user or when your memory card fails. In such case, it is very important to ensure that the memory cards are not sold with sensitive data in it and careful consideration needs to be taken to ensure that sensitive data stored on memory card cannot be recovered later using any powerful data recovery tool. Many users seem to be unaware of what they must to do in order to resold or dispose the memory cards safely and they think that simply deleting the files or reformatting the memory cards will leads to permanent deletion of files. But, this is not true, simply deleting the files or reformatting the memory card cannot prevent data from being recovered using best memory card disk wiping tool.
Deleting the data from the memory card leaves the data on memory card itself. But, it effectively removes the index entry to it thus it can still be read back until it is actually overwritten by new files. Reformatting the memory cards makes it even more difficult for the user to find and access the files. Because, reformatting destroys the organizational structure i.e. file system that is used to locate and retrieve the files from the memory cards. Even though, a sophisticated file recovery tool can recover those files from memory cards. This is applicable to all different types of memory cards like SD cards, CF cards, XD cards, MMC , SM cards that are used by cell phones, PDA's, digital cameras etc. Moreover, this tool is widely known for wiping partitions from portable external hard drive of all major brands that are available in the market.
Deleting the files or reformatting the memory cards not only removes the index entry and destroy the file allocation table respectively, it also allows you to overwrite the old files with new files. If you save or copy new files to that specific location, the files that you have deleted will eventually be overwritten. To wipe disk on memory cards, the software that overwrites the memory cards with random data, zeroes and ones is needed.
Drive Wipe can wipe hard disk free space using 9 different data shredding patterns. DoD-5200.28M, Peter Guttman and Peter Guttman + Dod-5200.22M are the 3 different shredding patterns, which offers high security levels. This software has the ability to securely wipe the different memory cards like SD, XD, MMC, CF cards etc. Lexar, Transcend, SanDisk, Kingston, Sony are the various popular manufacturers of the memory cards that are supported by this software. Additionally, this software can also wipe disk drive, USB drives, external hard drives etc. This software is able to wipe Windows hard drive as it is compatible with all versions of MS Windows OS such as Windows 7, XP, vista and Windows Server 2003 and 2008.
Steps to securely wipe memory card data are as follows:
Step 1: Download Drive Wipe and install the software and then launch it
Step 2: After launching the software, the main screen appears. From the main screen, select the memory card from the list of logical drives and physical hard drives then click on "Next" button as shown in Figure 1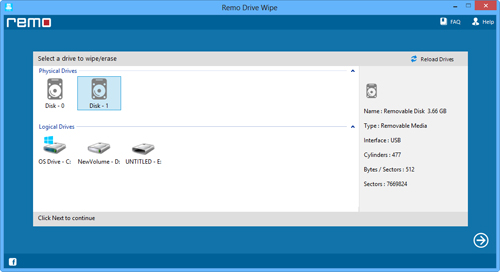 Figure 1: Main Window to wipe memory card data
Step 3: As you click on "Next" button, the next window with 9 shredding pattern is displayed. Select the suitable data shredding pattern among 9 different data shredding patterns and then click on "Next" button to completely wipe the data from the memory card as shown in figure 2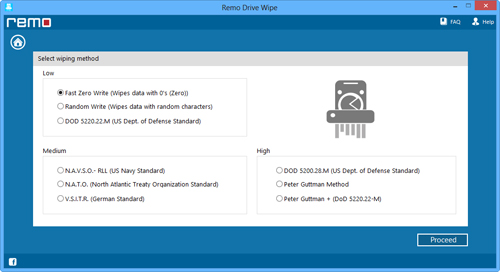 Figure 2: Select data shredding pattern
Step 4: A confirmation message is displayed after clicking on "Next" button. Now, Click on "OK" button to continue erasing process of data from memory card