How to Permanently Wipe Personal Data from Your Computer?
Are you ready to upgrade your system? Are you planning to sell your computer? However, if you want to keep your personal data private, you need to erase all your files before selling your personal computer to the other person. To permanently delete a file it is not enough to press delete button or empty the recycle bin. When you delete a file from Mac or Windows OS it is not permanently deleted. It only deletes the file by making it invisible and by releasing the disk space it was using. So in order to permanently wipe all your personal data from your personal computer you need to make third party application such as wipe disk tool.
Usually, we don't care what happens to the files after they are deleted. When we dump our old computer or sell it to somebody we don't want to leave all the files on the disk. Deleting them or even formatting the drive does not erase the file permanently. With simple recovery tools it is possible to recover formatted partitions as well as deleted files. This is a problem as our files may contain confidential data, user names, passwords or even personal information. Formatting the hard disk, of course, hides files only from amateur.
Therefore, there are some ways to erase the data permanently from your hard disk permanently. All you have to do is to overwrite the disk with random values. This data overwriting will prevent conventional data recovery software to retrieve deleted files from your system hard drive. Not only the hard drives of the computer but also the external drives like portable hard drives, USB drives, memory cards, flash drives, etc. storage drives need to be wiped sometimes. You can use wipe disk software to completely wipe flash drive on the computer, having confidential data which you do not want anyone to access.
To permanently wipe personal data from the computer hard drive you can use a reliable free disk wipe software. This is a tool that overwrites selected files with predefined data patterns to prevent data recovery. To be on a safe side one pass is nosst enough. Most disk wiping algorithms approved by authorities use multiple overwriting passes to remove all traces of the original disk data. Even if you intend to sell your personal computer it is always good to permanently delete all the data stored on the hard drive. You never know who might be interested in recovering the files from an old computer. Some do it for fun, others for business.
This wipe disk software uses the US DoD (Department of Defense) security standard to erase the data. It overwrites the data with a character, second pass with the complement of the first character overwrite and in the third pass, it uses random character to overwrite the data. Drive Wipe is effective drive wipe tool that helps in permanently deleting confidential data from hard disk drive and other portable storage devices. This software can also wipe files from memory cards and supports different versions of Windows Operating System. This software overwrites any data several times on Windows hard disk drives and other storage media, especially those that are being resold or disposed of. This software can also overwrite the  ambient data storage areas like file slack, unallocated file space etc.  This utility can erase browser history permanently from different browsers like Google Chrome, Mozilla Fire Fox, IE etc. Along with US DoD security standard, it also uses 8 other security standards like Fast Zero overwrite, Random Overwrite, Peter Guttmann Secure Deletion, NATO standard, German:VSITR, US navy etc. These 9 standards are categorized based on their security level like low, medium and high. You can select appropriate standard to wipe the disk securely and permanently. The software also helps in wiping the specific logical drive permanently.
Follow the steps given below to use Wipe disk software:
Step 1: Download Drive Wipe and install the application.
Step 2: Launch the software by selecting the software from Start Menu-> Programs or by clicking on shortcut menu on desktop. Once the software is launched, the main screen appears as shown in Figure 1. Select the USB drive from the list of logical drives and physical hard drives then click on Next button.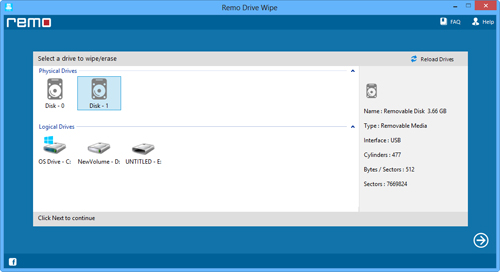 Figure 1: Select the drive