Permanently Delete Files from WD External HDD
"A few days back I purchased a new SSD drive of 1 TB to create backup of the important files in much more secured way. As I had one more WD my passport external hard drive, I sold it online. After sometime I started to get different bills from different portals. Now I realize that some of credit cards detail where present on the drive. Is there any way that I could have ensured none of my files where accessed by anyone?"
This question has been taken from one of the renowned forum website. We usually lose some of the important files from storage device which is handed over to someone else. The best solution of such problem is implementation of Wipe Disk software, before handing it over to someone else. This software shreds the files and folders present on any drive using different shredding pattern in effortless way, thereby ensuring that no one can make use of file that was present on drive. By implementation of this utility you can find easy solution for question like how to erase WD my Passport external hard drive. Other important thing is that even if the memory space is free data present on that location can be accessed. So, users must also ensure that they wipe disk free space before handing over the storage device to someone else.
Even if we erase files from storage device like WD my Passport external hard drive using delete or format command, they can be easily recovered using recovery software, which is available over internet. Recovery software are capable to retain the files that get inaccessible due to deletion or formatting because when we apply either of commands then only file detail is cleared from the file system. So, all that recovery software needs to perform is to rebuild the file pointer on the file system.
The easiest way to delete files from WD my Passport external hard drive to such an extent that it can't be recovered is overwriting the files. But, it's quite impossible to overwrite each of the files using manual method; therefore, it is advantageous to make use of Wipe Disk utility to deal with query such as how to erase WD my Passport external hard drive. This software allows users to apply nine different shredding patterns. Some of the shredding pattern are fast zero overwrite, random overwrite, Peter Gutmann Secure Deletion, US Navy, NAVSO P-5239-26_RLL and different others. Among the shredding pattern the first three are free of cost. These patterns can also be used on computer and laptop to permanently delete files. Click on this link, for more details: https://www.wipedisk.net/permanently-wipe-personal-data-from-computer.html
Wipe Disk software allows users to wipe data from different other storage devices such as memory card, pen drive, memory stick, MMC, etc. The user interface of this software is very simple which allows even the naïve users of computer or laptop to easily make use of it. As you implement this external hard drive wipe software an easy solution is provided for how to erase WD my Passport external hard drive? This utility just requires very little memory space for installation. This software functions flawlessly over 32 bit and 64 bit system. By usage of this software can be easily implemented over any of the Windows based system with the same intensity. Click on this link to know more about how to erase WD my Passport external hard drive on Windows system: https://www.wipedisk.net/windows.html
Note: Moreover, this software can also wipe Sandisk memory card and sd card of various brands including Transcend, HP, Sony, Samsung, Verbatim that are available in the market.
Perform following steps for wiping sensitive data from your WD External HDD.
Step 1: Install this software on your Windows PC and double click on desktop shortcut for launching the program. Now connect WD my Passport external hard drive to your PC. On program's main screen, select USB drive and press "Next" as shown in Figure A.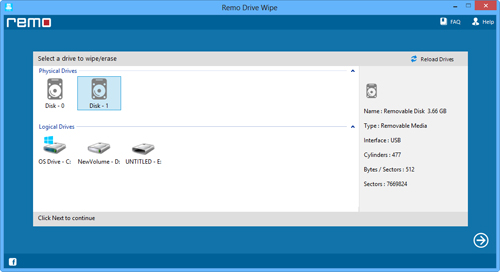 Figure A: Select Drive
Step 2: Select any one of the nine wiping method and press "Next" as shown in Figure B. You can even go back by clicking on "Back" button if you do not want to wipe this WD my Passport external hard drive. After successful wiping of WD my Passport external hard drive, software will show you a message stating that the particular drive was successfully wiped.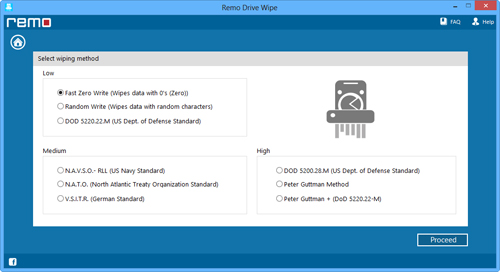 Figure B: Select Wiping Method